Wedding Vehicle Decoration Malaysia
We provide wedding car decoration in Kuala Lumpur, Selangor, Petaling Jaya, Cheras and Kajang. If you are at other areas, please contact us too to make arrangement.
The groom must always enter with a bang because it is all about impression. Since the good old days of knights on horses is gone, the groom has to be the hunk with the "machine". But a simple car is rather boring and mundane. It needs a feminine touch to give it that extra kick that will draw the attention of the crowd. If you like it elegant and sophisticated it is better to keep it simple with a few floral patterns And if you want to enter with full flourish then add all the necessary bling fresh flowers are so much better than those faux ones but fresh flowers also cause allergies so beware that you don't want people to jinx your wedding with all the sneezing. You could use broad satin ribbons or tule or taffeta bands to just add to the whole decor the extra oomph.
The vehicle
It is a wedding and the vehicle should be befitting. You are not going around in a truck or a SUV, but it should be posh. A classic Mercedes Benz or an open hooded Audi will do just fine. Or if you have the finances, hire a vintage collection like a Ford Mustang. This will surely add to your class quotient and your richness in taste as well. Note that you certainly don't want a sports car or an exotic Bugatti either as you won't be accelerating 60 mph in 4 seconds with all the decorations. Also the paint job matters. Avoid decals and chrome on the vehicle and is possible, match the paint with your suit color or at least in similar shades. If you are hiring the car then you must make sure the interiors are clean. And if it's yours then don't forget to clear out all those empty beer bottles from your bachelor party. Preferable use an air freshener.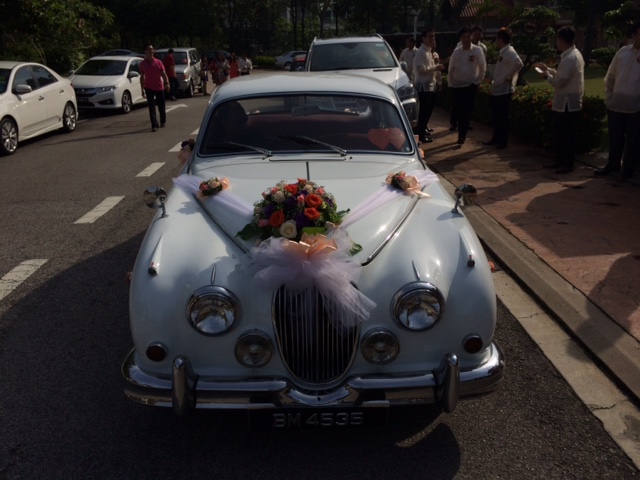 Floriography!
Use seasonal flowers because they are so much better. Also different flowers mean different things. You could just make your car decor thoughtful and romantic if you just pay attention to their connotations. During renaissance this was quite common using flowers as symbols. Yellow rose for friendship and red for every lasting love.
Flowers Aside…
Buy some liquid chalk or spray paint to write "Just Married" or "We're just married" in order to make it more apparent. While to you it may seem obvious, it is certainly not so for others on the road. Accentuate it further with proper ribbons and matching colors. Also balloons are a must for a wedding car. Go for deep red or blood red balloons and mix it up with white ones. This creates the perfect "wedding" combination.
Imagine how touched your bride will be when she sees those flowers so thoughtfully chosen by you. This just might promote you to the status of her knight in shining armor. Symbolic to the "driving into the sunset with love" tradition, a wedding car maybe more than just a ride! If you want a wedding car decoration service, call us now or email us!