Mercedes C Class – Personal Luxury Sedan For Hire
Introduction of Mercedes C-Class Car
The Mercedes C-Class was first introduced into the market in 1993 now twenty years ago and it is on its third generation. It is considered as the most impressive and executive car rental option containing the desired the qualities. It encompasses good qualities which has made the company to be world renowned with its dependability, safety, style and comfort hence making it to be the leading in sales numbers in the market.
Reasons why one should hire the Mercedes C-Class car
The car is considered to be cost effective since it has a fuel consumption of about 64 mile per gallon. The Mercedes C-Class is also an economical choice for most hire customers.
Safety features: Concerning safety, one can drive with a lot of peace in mind having knowledge that the C-Class is well fitted, very standard containing around seven airbags and a well-developed and stable control mechanism which helps to keep the driver always on the road, a tire pressure monitoring, vehicle alarm notification and a pre-collision safety system
The car is very comfortable containing leather steering wheel, a turn signal in mirrors, a dual zone controls and an interior air filtration.
The car is more convenient since it contains a cruise control, an electric power steering, front and rear cup holders and it contains transmission and audio controls on a steering wheel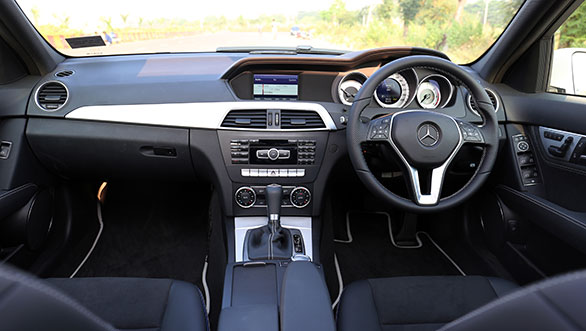 Mercedes C Class Interior
The car is stylish and speedy: The car is smart, very functional and so luxurious hence it is a sure fire hit to car hire customers. It has the highest speed of 231kph and acceleration from 0 to 100mph for only 8.4 seconds and this makes it more appropriate for long journeys on the motorway, whilst with the solid steering mechanism which gives an advantage for drivers who may want to navigate their way through town traffic.
The cars are available in different colors that is the external colors that it may contain are: polar white, steel grey metallic, iridium silver metallic, lunar blue metallic, palladium silver metallic, black, diamond silver metallic and diamond white metallic. The choice of the color will depend on choice of the customer to hire the car. The internal colors are: Black leather, Black leatherette Crystal Grey leather, Crystal Grey leatherette, Silk Beige leather and Silk Beige leatherette. However for rental purposes, our vehicles are limited to the colors available at the time of hire.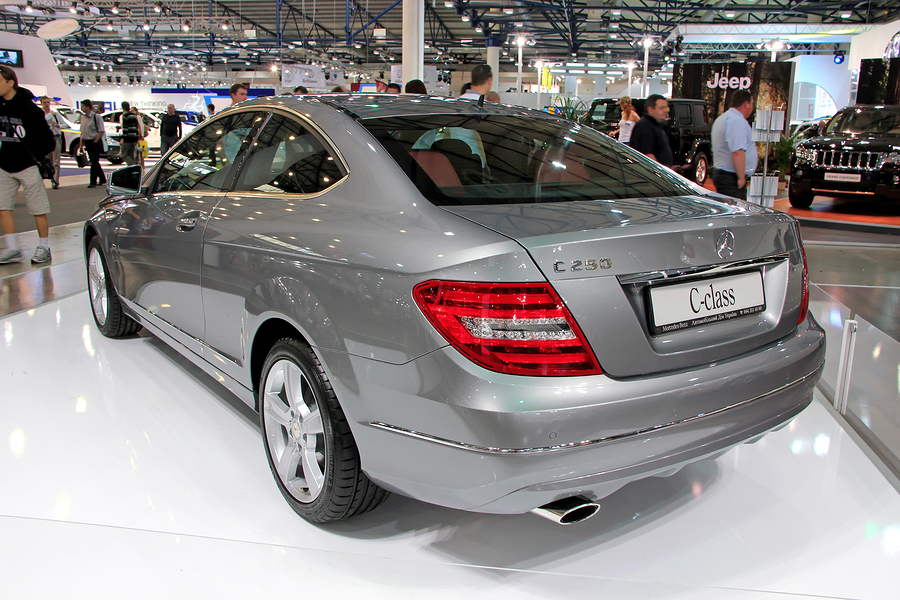 Mercedes C Class at an Exhibition. Back view.
It contains a well system entertainment that is AM/FM stereo, a USB connection, a memory card slot, an auxiliary audio input and USB with external media control, a fine speed sensitive volume control and two subwoofers.
It has several features such as:
The front seats contain a 10-way power driver seat with an adjustable driver seat powered with adjustable lumbar support. The rear seats have rear ventilation ducts with a split folding rear seat back. It contains power features like hands free entry and four one touch power windows
Some of the car measurements are:
Exterior measurements are: it has a width of 5ft.11.3 in. (71.3 in.), height of 4 ft. 8.8 in. (56.8 in.), length of 15 ft.45 in. (184.5 in.) and a wheel base of 9 ft. 3.8 in. (111.8 in.)
The interior measurements are:
It has a front head room of 37.1 in., a front leg room of 41.7 in., a rear head room of 37.1 in., and rear leg room of 35.2 in.
That's as detail as we can get. Enquire now about renting a Mercedes C Class from us by calling us in the number below now!