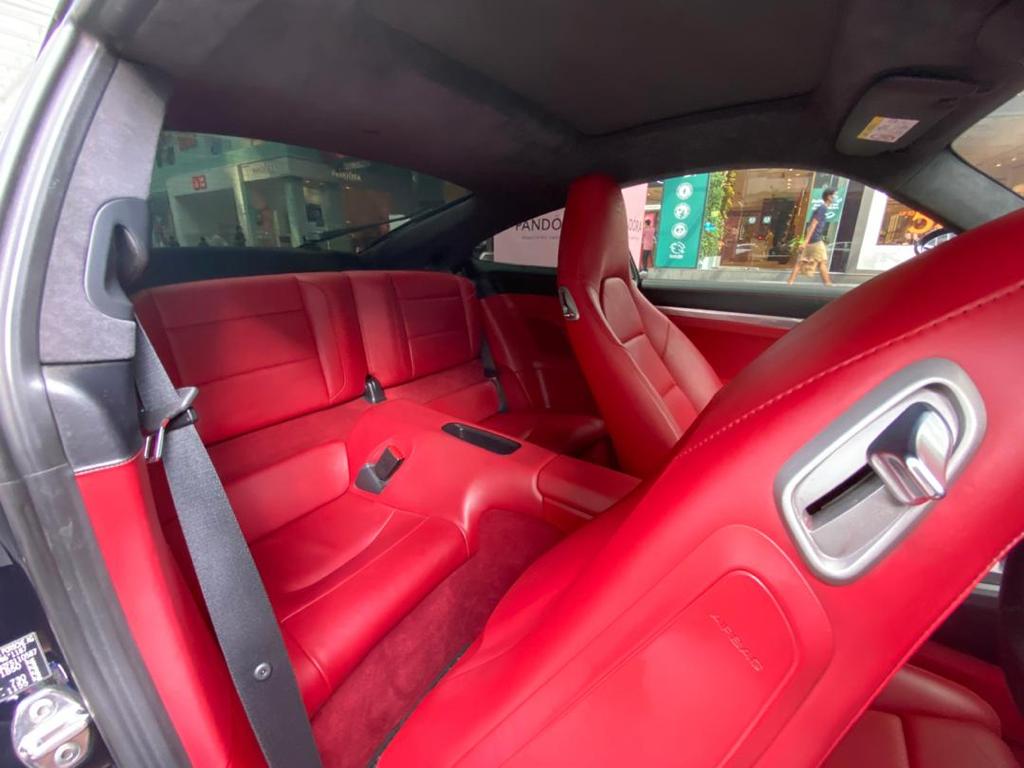 Porsche Carrera S Rental Malaysia
We provide Porsche Carrera S Rental for self driving pleasure, wedding car rental and sports car rental.
No matter how fast the supercar; the name "Porsche 911" will still give it sleepless nights. The 911 is known as Porsche's flagship beast. It shows that you don't need the biggest engine or millions of dollars to overtake the flashiest high-performing cars in the world.
The 911 Carrera S is a symbol of excellence and a great car to have. Especially on the streets of Kuala Lumpur, Malaysia. Let us show you what it brings to the table.
Its instantly recognizable exterior
The Carrera S has Porsche's signature looks that can be found on all its siblings, such as the Cayman. The round Porsche headlamps, the fastback look; the wide hips, and the low ride height. It will always make sense, and it will always look fabulous.
No one is a stranger to the Porsche Carrera S, especially not in Kuala Lumpur. Rent yourself one of these, and you'll stand out like no one else.
A sophisticated interior
The stylings of the Carrera S's interior scream out Porsche, but in a dignified way. It looks very spiffy and futuristic. It is built out of the finest materials, and the quality is excellent. As it is a car meant for driving, you get a low driving position and adjustable steering. Everything necessary is right where you'd expect it to be. The look of the gauges is right out of a sci-fi film.
The Porsche Carrera S allows a decent amount of storage with its door pockets, glovebox, and numerous cupholders. The trunk is upfront and can handle a small bag. You get rear seats to accommodate small children or add to the storage capacity.
A Techfest inside
The 911 Carrera S offers technology in a way that only it can. You get dual-zone climate control, cruise control, and keyless entry/go. It is a luxury sportscar so you get electrically adjusted heated seats as well. The large infotainment system screen is mated to an 8-speaker system. USB connectivity and a Wi-Fi hotspot are also included.
These are just some of the features. To find out more, rent out a Porsche Carrera S if you're in Kuala Lumpur.

Ride and fuel economy
If you liked all that, then know that we've just gotten to the good stuff. The unique selling point of the Porsche Carrera S is its ride. It is super comfortable and controlled. It grips the road like how a child grips its mother's hand. The steering is insanely accurate and responsive. Your ears are treated to the awesome tunes of the engine.
The Carrera S can do a reasonable 18mpg (8km per liter) when you drive it in the city. It can do 25mpg (11km per liter) when you put your foot down on the highway. You can fill it up to almost 17 gallons (64 liters).
Engine
Finally, we get to the meat of the features, the rear-mounted engine. The Carrera S has a 3-liter flat six-cylinder engine. It makes a whopping 443hp and 380lb-ft (528Nm) of torque. This mountain of power is transferred to the rear wheels. A quick dual-clutch 8-speed automatic transmission does the trick.
This breathtaking powertrain will get the Carrera S from 0-60mph/100kph in about 3 seconds. Despite the controlled atmosphere provided by the Carrera S, we don't recommend that you use all the power at once!
Verdict
The Porsche 911 Carrera S doesn't need us to flatter it, because we cannot in one article. It is a sports car that is as luxurious as they get. It is not a car meant for posers, due to its legendary pedigree.
But it is that good that it will turn even the novice drivers into touring car champions.
These are bold statements, and you should verify them by yourselves. Call us below and if you're in Kuala Lumpur, contact us to rent the Porsche Carrera S!