Toyota Alphard Rental Malaysia – Luxury MPV With Comfort & Roominess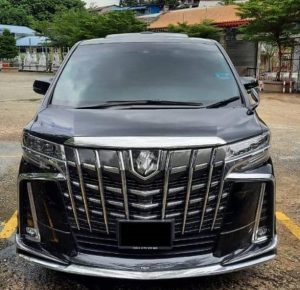 Toyota Motor Corporation, commonly known as Toyota, is a Japanese automobile manufacturer – and the largest in the world in terms of units produced. It manufactures vehicles under five brand names – Toyota, Scion, Lexus, Ranz and Hino – and is one of the most trusted brands when it comes to automobiles. The Toyota Alphard was produced in 2002 as a competitor to Nissan's Elgrand and Honda's Elysion multi utility vehicles (MUVs) – also known as a minivan – and quickly became the best-selling MUV in Japan. Sourced directly from Japan, the Alphard MUV was introduced in Malaysia because of popular demand and is available from us as Toyota Alphard Rental Malaysia.
Designed to Perfection: The Toyota Alphard is a second-generation make of the vehicle and comes with a 2.4L engine with technical specifications that are optimized for Malaysian roads. A large vehicle with a monoform design, the Alphard's size has been enhanced by means of flares at the front and rear wheel arches and a smooth, rounded front design that gives it a homely look while hinting at the barely restrained power of the workings inside. The Alphard is a large vehicle, with a wheelbase of 2950mm and width of 1830mm, with an overall length of 4840mm. Cabin design ensures a quiet and comfortable ride, as it has been crafted to minimize unnecessary sounds by use of special insulating materials.
Powerful Performance under the Hood: This Alphard comes in two engine variants. The 2.4L V6 (six-cylinder) engine provides an output of 125 kW (168hp) with 235 Nm of torque, while the3.5L straight-4 cylinder arrangement engine has a 206 kW output (276hp) with 330 Nm of torque. The 3.5L Alphard has a six-speed transmission, while the 3.5L Alphard uses a seven-speed transmission. Manual transmission is available on request.The strong body features MacPherson struts for the front suspension, and torsion beam at the rear. This is optimized to ensure the most excellent handling capability for the vehicle.
Renting a Toyota Alphard in Malaysia ensures that the vehicle you rent is fully compliant with the technical specification required for driving in the country, and is honed for best performance in the Malaysian climate. Renting the car saves you the hefty cost of buying the MUV for a temporary use, and you can also enjoy the pleasure of a fine car. The Alphard is great for transporting more people than an ordinary car can hold, as there are three rows of seats. The third row allows for the seats to be folded to make extra space for luggage, and the driver's seat is adjustable to ensure maximum comfort.
The Pros of Toyota Alphard Rental Malaysia: The vehicle you will rent is fully optimized for driving in Malaysia, and is therefore a perfectly safe choice.The Toyota Alphardalso comes with features like Lane Monitoring, Backing Camera, Blind Corner Monitor and Radar Cruise Control to ensure a smooth and hassle-free driving experience.
The Toyota Alphard is a big car that is, surprisingly, a great pleasure to drive. Slip behind the wheel and get zooming! What are you waiting for? Call us now or use the booking form now!